Bali Rattan Furniture is unique in design and lovingly made by hand.
Wholesale, Suppliers and Exporters of Designer Eco-Friendly Furniture.
Natural materials are an ecologically friendly decor choice.
These exotic natural fibers, including cane, sea-grass, water hyacinth and banana leaves are ecologically correct, sustainable fibers bringing new life and texture to woven furniture and contemporary decor.
Durable, beautiful and sustainable fibers that are smooth to the hand and naturally very attractive to the eye. The richly woven look of any of these fibers works well in a variety of room styles too, making them a good choice from a functional and contemporary design perspective.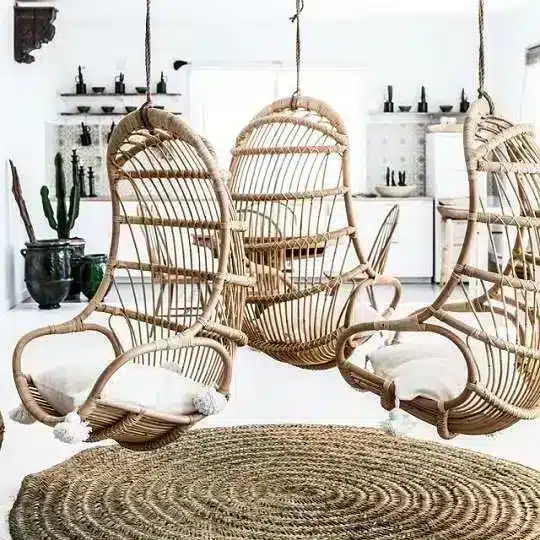 The natural beauty of Rattan,Wicker, Sea-grass and Bamboo offers eco-friendly options for both interior and exterior decor designs.
Generations of Balinese artisans have provided the world with amazing handcrafted furniture for decades. They have the ability to meet the unique needs of our customers creating individual bespoke furniture for hotels, motels and specialised projects.
We are exporters and sourcing agents and have been outfitted some of the most prestigious resorts around the world. As our furniture is all made by hand both in Java and Bali we are able to offer bespoke services to our clients. We also have an amazing range of natural handicrafts and homewares. 
With Fuzen Decor Bali you have the option to mix your container with a variety of materials
The vast majority of items we offer in our extensive catalogue are made in homes and smaller workshops. In many instances, the craft the artisans learned from their ancestors is either their livelihood or supplements their income from other activities such as farming.
We prefer to make an effort to improve the lives of these artisans by first respecting the time and effort they put into their work and, then, sharing their beautiful handiwork with the world.
We are trade suppliers only and do not sell direct to the public sorry.
AUSTRALIAN BUYERS: We presently have an exclusive supply contract in place and are unable to supply any new retailers at this time.  Have a great day.
REGISTER TODAY TO VIEW OUR WONDERFUL RATTAN CATALOGUE