BALI WHOLESALE OUTDOOR FURNITURE
Bali Tulum Style Teak Outdoor Furniture
Elevate the ambiance of your establishment with our exquisite Balinese, Tulum Style Outdoor Furniture from Indonesia. Fuzen Décor Bali is the trusted choice for boutique hotels, resorts, restaurants, and bars seeking to adorn their outdoor spaces with beautifully designed, quality teak furniture. With over two decades of experience, we have been crafting stunning outdoor furniture that withstands the test of time.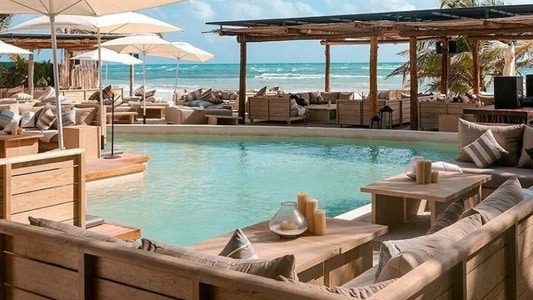 In the bustling commercial environment, your furniture deserves nothing less than exceptional durability. Our meticulously crafted pieces ensure a long-lasting investment, perfect for the wear and tear of high traffic areas. Say goodbye to the hassle of frequent replacements and welcome furniture that is not only easy to maintain but also repairable, providing a peace of mind even in the worst-case scenarios. Investing in quality hotel furniture is essential, reflecting the commitment to excellence that sets your establishment apart. Embrace the allure of Bali Outdoor Furniture and create an inviting, stylish outdoor oasis for your guests to enjoy for years to come.
TEAK AND RESIN DESIGNER OUTDOOR FURNITURE DIRECT FROM THE FACTORY
When it comes to outdoor furniture for hotels, motels, and resorts, there is no better choice than teak wood. It is the only wood recommended by experts in the outdoor furniture design industry for its exceptional qualities. Teak wood is renowned for its longevity, weather resistance, and low maintenance requirements, making it the ideal choice for outdoor use.
Apart from its practical advantages, teak also boasts an exotic appearance and beautiful coloring. Its natural insect and decay resistance properties further enhance its appeal, ensuring that your furniture remains intact and in top condition for years to come.
RESIN RATTAN OUTDOOR FURNITURE
Resin rattan outdoor furniture combines the beauty of natural rattan with the durability and easy maintenance of resin materials. It is a perfect option for those seeking a stylish and practical solution for their outdoor spaces.
Resin rattan furniture is made from a synthetic material that mimics the look and feel of natural rattan. It is known for its exceptional resistance to weather conditions, making it perfect for outdoor use. Unlike natural rattan, resin rattan does not fade, crack, or warp when exposed to the elements, ensuring that your furniture retains its original beauty and functionality for years to come.
We also manufacture outdoor furniture from reclaimed teak to meet the needs of those looking for outdoor furniture with more character than a-grade teak or any other wood that you would use to construct outdoor furniture with. Each piece has its own unique character and the inherent imperfections are what make such an amazing outdoor statement piece of furniture. The distressed look is really spectacular. Every scratch, indent, hole and knot tell a story. These unique pieces are versatile and will compliment many outdoor spaces. 
We are trade suppliers only and do not sell direct to the public sorry.
AUSTRALIAN BUYERS: We presently have an exclusive supply contract in place and are unable to supply any new customers in the Australian region at this time.  Have a great day.