Balinese Handicrafts and Homewares
Balinese handicrafts are totally unique and just the thing for those of you who enjoy ethnic interior decorating with that special Asian eco-friendly feel. Balinese handicrafts blend useful designs with ethnic decorative elements, creating wonderful items, made completely by hand using simple tools by artisans who have honed their craft through  the generations. Fuzen Decor have been exporting wholesale handicrafts and homewares from Bali for the past twenty years and offer a one stop solution for sourcing eco-friendly and unique decor products. 
Suar Slabs
Hot hot hot. Suar slab stools, coffee tables, bowls, pots and wall decor are so now. Rustic and primitive all in one go. Suar's grain is unique and full of life.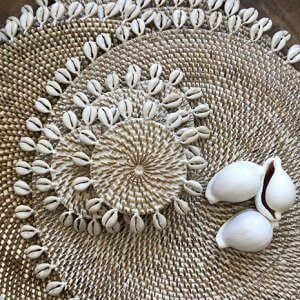 For The Table
Our massive on-line catalogue offers an extensive range of products made from natural rattan, wood or terracotta placemats, bowls, plates and baskets.
Natural Baskets
Our stunning collection of handmade baskets are made from bamboo, Banana Leaf, Water Hycinth, Seagrass and Rattan are so hot right now.
Rugs
Whether you are looking for natural or textile rugs you will be impressed with the large range of unique floor decor rugs in our large on-line catalgoue.
Ethnic
Carved by artisans from all over Indonesia. This range of primitive art offers unique decor pieces inclusive of furniture, pots and wall decor.
Shell
2021 hottest products of the year are produced using natural shells , creating some of the most beautiful decor pieces of the year
Rustic
Everything in Indonesia is recycled, nothing is thrown away. The Balinese create wonderful functional pieces from Teak branch's.
Wood Decor
If you are looking for candle holders, wall carved panels, decor pieces, plates, bowls, buddha''s, animals and lists goes on. Talk to us
Textiles
Gorgeous cotton cushions, throws and bed covers are made by hand by a team of women Co-Operatives who are passionatly dedicated .
Bali Lighting
You will find our curated selection of Rattan, Bamboo, Wood and Copper handcrafted lighting products are the perfect for any Boho room.
Stone Statues
We hand select the finest solid stone carvings available in Bali. The majority of carvings are of Hindu deities and traditional Balinese characters.
Pots
We have terracotta pots, cement pots, glazed pots, terazzo pots. The list is just massive. We have hand fired pots from 20cm to 200cm tall.
Our company represents a collective of amazing artisans striving to create unique handicraft and homeware products.
Bali has always been well known for woodcarving, but only among a small number of families who, for generations, have specialized in carving statues of Garuda—a winged dragon-bird from Hindu mythology. In the late 1970s and 1980s, the Garuda statues, as well as other Bali-Hindu carvings proved to be popular souvenirs among tourists who passed through the Bali. Today as demand increased, these artisans began training novices  to create a cottage industry that supports entire economically challenged communities.
REGISTER NOW TO ACCESS OUR EXCLUSIVE ON-LINE CATALOGUE
We are trade suppliers only and do not sell direct to the public sorry.
AUSTRALIAN BUYERS: We presently have an exclusive supply contract in place and are unable to supply any customers at this time.  Have a great day